七月的第一个夜晚,SUBTRAINIAN (地下人)
的首映派对在乐空间举办
除了放映,影片主角
NZT 和其他五支北京地下现场充满能量的乐队:
Hard Candy Revolution  / Jokers Belief / The Peppercorns /
Better Off Alive / Disaster Chat
将为大家来在摇滚乐的炸裂现场,
来看看看吧,跟主演一起来感受摇滚的生活吧!
July, 1st,  the launch party of Substrainian TV show will be hold at Yue Space.
Six bands: NZT / Hard Candy Revolution  / Jokers Belief / The Peppercorns / Better Off Alive / Disaster Chat, will bring a night of collision. 
It's Classic, It's Punk. It's Beijing.Don't Miss It! Come to support  them!
SUBTRAINIAN(地下人)发布派对!
 Subtrainian TV Show Official Launch Party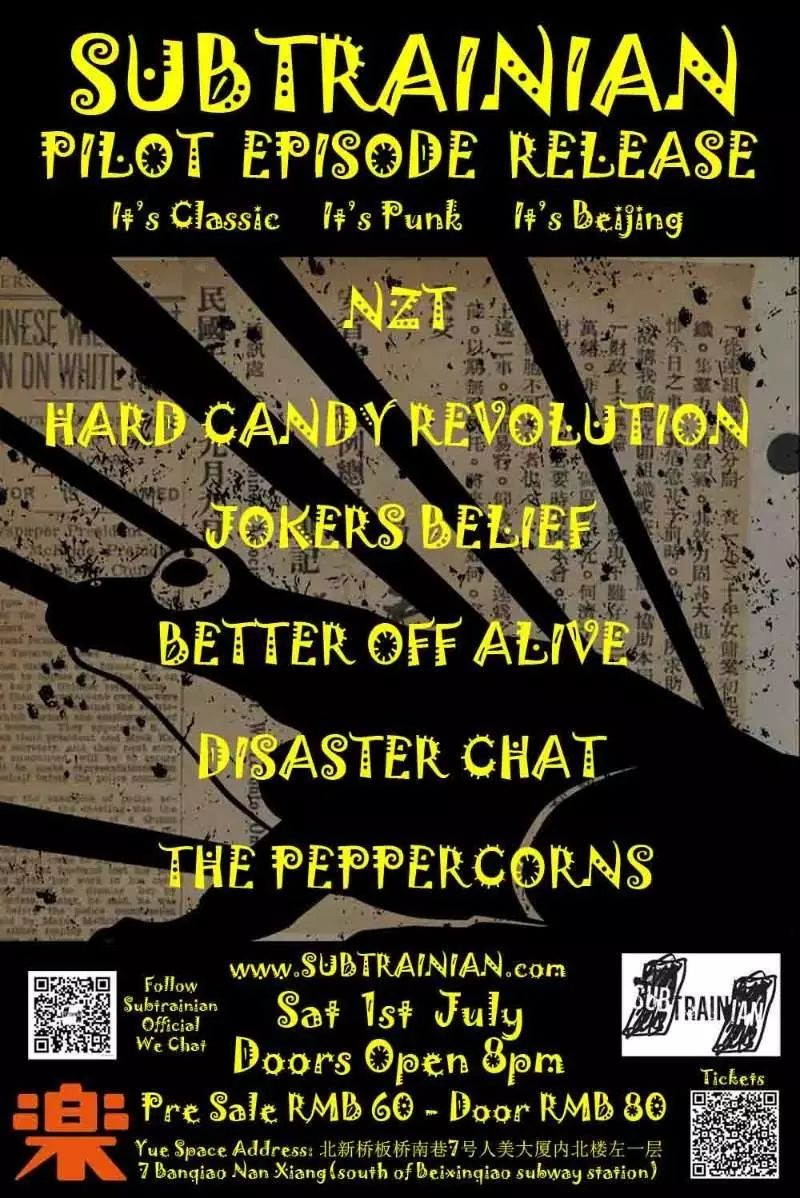 LINEUP 阵容
NZT / Hard Candy Revolution  / Jokers Belief /
The Peppercorns (飞椒) / Better Off Alive / Disaster Chat
WHEN 时间
2017-07-01 SAT 20:30 
WHERE 地点
Yue Space
7 Banqiaonanxiang, Dongcheng district
乐空间
北新桥街道板桥南巷7号人民美术印刷厂内
TICKETS 门票
Presale:60   Door:80    预售60   现场80
Scan the QR code to get presale tickets

扫描二维码购买预售票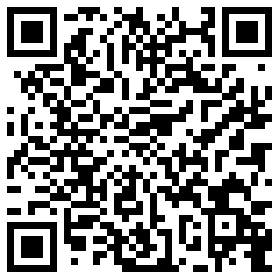 Ticket Links
 https://yoopay.cn/event/SubtrainianTVShowOfficialLunchParty
 SUBTRAINIAN l 地下人 

SUBTRAINIAN是一部关于北京地下摇滚生活的假纪录片。
主演决定改变他的生活,放弃他的铁饭碗,去追求当朋克的梦想。
但追求梦想时天上不会不掉馅儿饼的。
为了活他想要的生活方式他经历了很多搞笑的事情。
Substrainian TV show is a "mockumentary"  created to showcase the amazing Beijing live music scene.
Follow Justin Richardson on his hilarious transformation from a corporate suit into a fleeing Beijing punk rocker,showcasing the Beijing music scene and featuring his PPPP (Post Punk Psychedelic Pop)band NZT.
 Jokers Belief l 小丑的信仰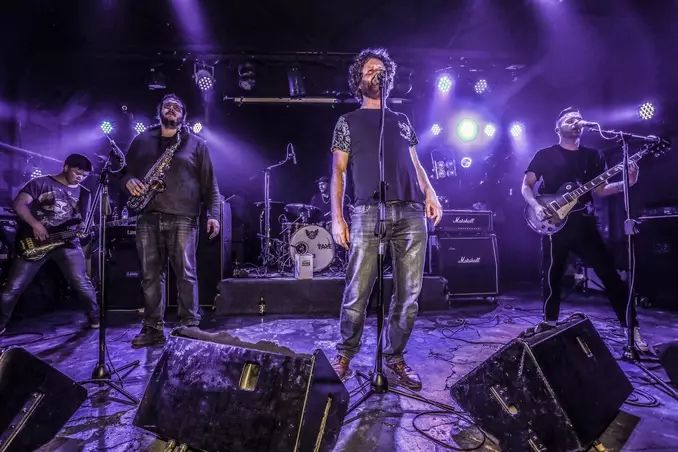 Sammy Boi - Electric Guitar(吉他) - England(英格兰)
Fred - Bass Guitar(贝司) - China/England(中国/英格兰)
Alex - Saxophone(萨克斯) - Germany(德国)
Alan - Vocals(主唱) - Ireland(爱尔兰)
Dojo Shaolin - Drums(鼓手) - Azerbaijan(阿塞拜疆)
小丑/弄臣,是生活在中世纪宫廷中的既低下又危险的职业。一天帝王要求小丑取悦所有宾客,如果不能满足要求就将其处死。小丑活了下来,"小丑的信仰"诞生了。来自5个不同的国家,5个不同的音乐背景,带来崭新的都市•放克•摇滚•新灵魂乐风格,我们叫它"Jokers Belief"
"Joker's Belief were signed by Kun Records in May 2016. Their EP is set to Launch towards the end of September, as well as playing some of the China's top Music festivals of 2016 and 2017"

Jesters and Jokers of medieval times were required to bring levity to the court and to meet the Kings requests. One Jester was required to entertain and amuse his King on demand, and if he failed, he was killed. The Jester lived - we call it "Jokers Belief"5 nationalities with 5 influences bringing you a fusion of funk, rock and Neo soul. 
Listen to their music: http://site.douban.com/jokersbelief
 The Peppercorns l 飞椒乐队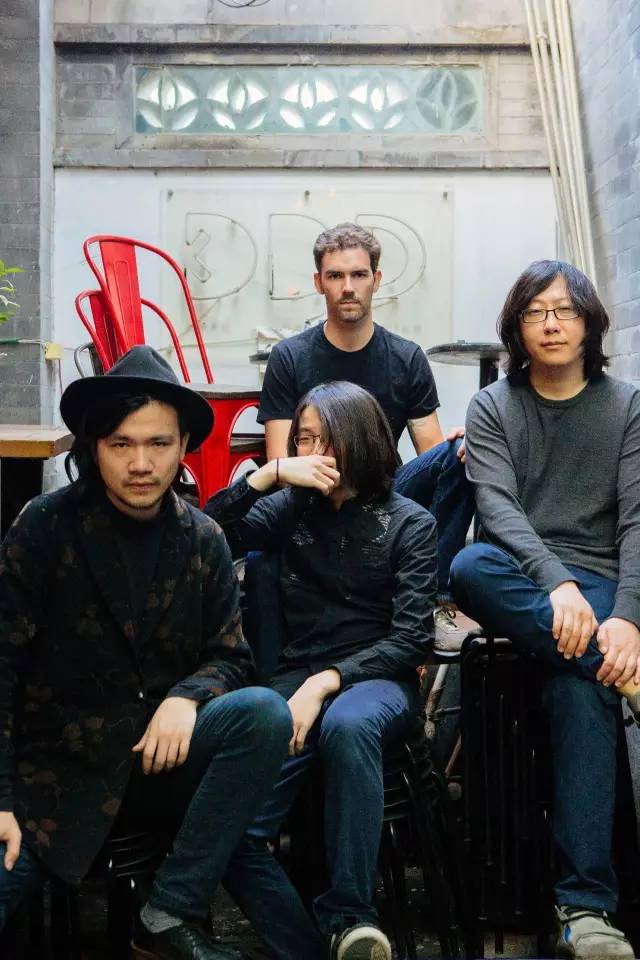 迷幻,根源,实验,后朋?这是一个很难用一种特定风格去定义的乐队。毋庸置疑的是来自六七十年代艺术摇滚的影响,在保有旋律性的同时进行一些新奇又古老的尝试。复古的吉他段落与70年代模拟合成器之音升起又坠落。轰鸣!激荡!如同所有苦涩炙热的不眠之夜。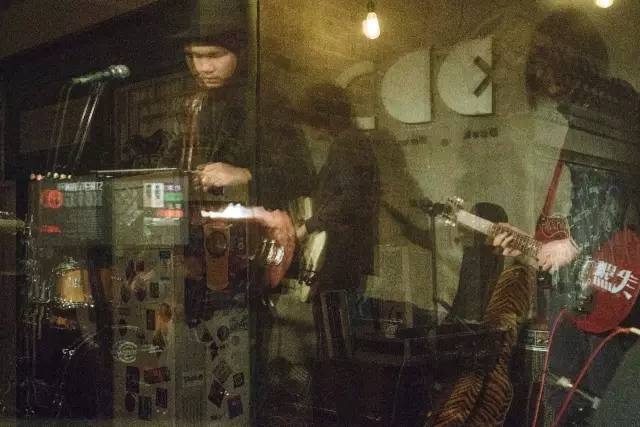 The Peppercorns is a band that plays heavy psychedelic rock music rooted in a classic 70's style, drawing inspiration from prog and art rock. The band is guitar heavy with experimental synth however their songs still maintain a pop sensibility. Fronted by Edog Wonderlogg II with Xian the mighty child on lead guitar, Kangaroo Zhong on rhythm guitar, Brain on drums, and Yan Von3000 on bass. Get ready for helicopters, paratroopers, and atomic lizards.
 Hard Candy Revolution l 硬糖革命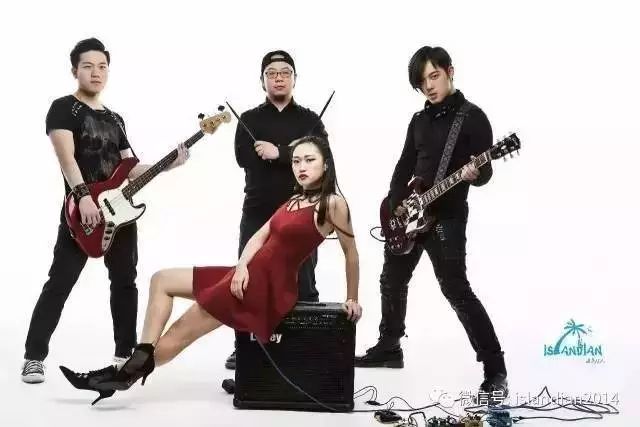 Hard Candy Revolution is a Hard-Rock band set up in 2014. It's a band of young energy and imagination, set off a wave of sweet, by mixing electronic and funk factor into its music style.
乐队成立于2014年,硬是态度,糖是追求,革命是抱负和对自己的鞭策。
强烈的现场爆发力与独特的曲风是硬糖的标签。非同以往的Hard-Rock风格,融入了电子、Funk等元素。一支年轻而富有想象力的队伍,意在掀起甜蜜的革命浪潮!
 Disaster Chat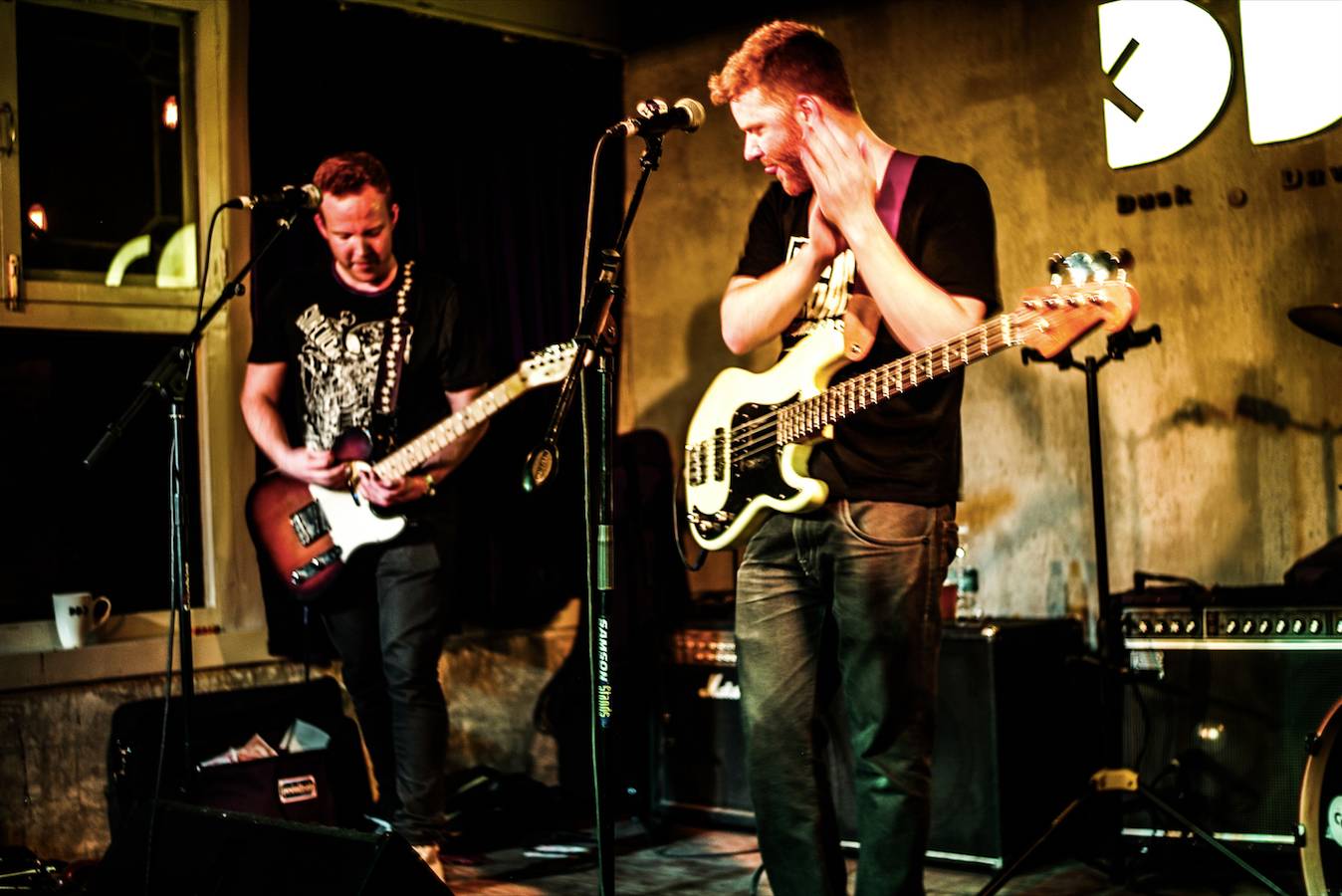 Disaster Chat 乐队是成立于2013年北京新晋的原创摇 滚乐队。清新的流⾏行元素结合Ambient 摇滚旋律,伴随清脆 穿透的演唱,音乐酣畅淋漓 。乐队成员来⾃自英国和美国, 但是在中国⽣生活背景成就了他们极具娱乐精神的现场表演。 如果你在北京眼花缭乱的摇滚乐⾥里迷失了⽅方向,这个目前备 受瞩目的乐队会让你眼前一亮。
Beijing's hottest new rock band are taking their raw, original sound all over the city. Dancie melodies pop intertwined with digi-delay pings and monumental distorted crashes, Disaster Chat are the new face of Beijing's pop-rock scene. Formed in early 2013, DC are going from strength to strength. See them appearing throughout Beijing during the rest of 2015, and beyond!... in the night, in a place where no-one cares. flashing lights, empty seats and empty stares. but you know, they're gonna make it big some day. let it show, that you were the first to hear them play. its your favourite local rock band...
 N Z T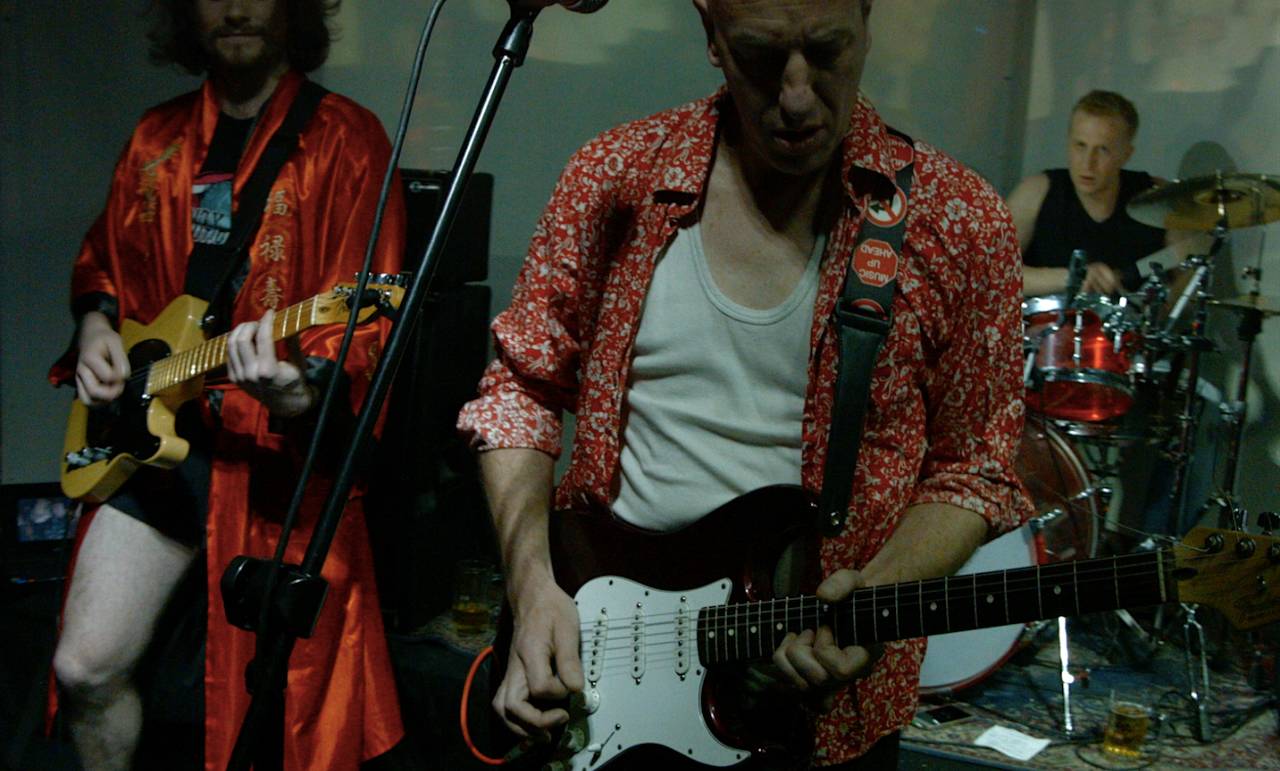 北京唯一有自己网络秀的乐队。他们如雷鸣,如百合。他们的音乐如同外星文明的炸药在你潮湿的梦的入口降落,和美妙的电波。NZT,涉猎哲学和沉重的轻浮地。他们的音乐中流淌着后流行迷幻朋克之血。歌词灵感也从太阳的本质到洗碗这样的琐事,这样来自于各种各样的主题。
NZT. The only band in Beijing with their own web show. They are the thunder. they are the lily flower.They are the sound of the explosive entrance of a newborn alien civilization onto the landing strip of your wettest dream. When your mind melts out from behind your ears and eyes and the only thing you have left to hold onto is are the sublime sonic waves made of ferries. NZT dabbles lightly in philosophy and heavily in levity. Their compositions include a entirely new genre of sound, known as Post Pop Psychedelic Punk PPPP. The lyrics are inspired from themes that are equally diverse, from the essence of the Sun to washing dishes. Justin, 20 year Beijing rock veteran, on vocals and guitar. Yonni the fish farmer of Vladivostok on drums, Mother Watchdog Jim 金二环 of Hammersmith on Bass, and Moon Bear 月熊 the Tryst in the Moonlight on lead guitar. Your laughter is the nucleus of a new universe. Glory to the gods!
 Better Off Alive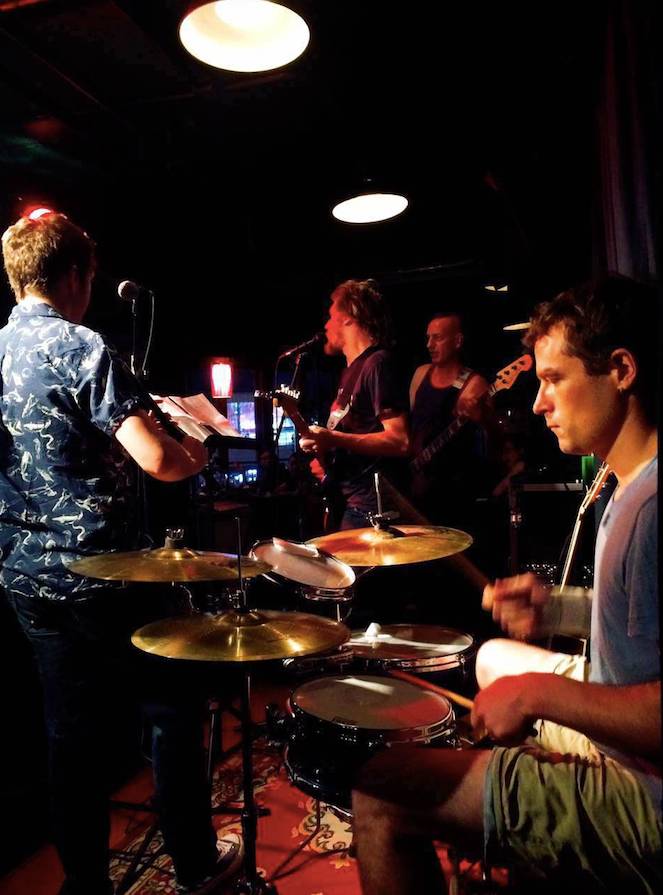 Better Off Alive 是一个成立于北京摇滚乐队,成员来自美国,英格兰,和澳大利亚。他们的音乐之中包含不同的民谣元素,并受世界各地多元文化的影响,主要包括美洲,凯尔特,英格兰,和东欧。这个乐队就是要传播他们的无聊,以及对世俗的冷漠。
Better Off Alive is a Beijing  based rock band with different folk and world influences including Americana, Celtic, English, and Eastern European.   Hailing collectively from U.S.A., England, and Australia the group wishes to share its trashy and worldly apathy with as many people as possible.